Please beware of scammers
As an international platform, Globalplacement is prone to attract those who try to scam people out of their money. For example by promising an internship abroad, but requiring a payment up front for their services. In some cases this might be for legitamite reasons, but always be very very vigilant.
Even though we try our very best to keep our platform free of abuse, we can't garantuee we'll never miss anything. If you see any suspicious vacancies on our website, please do report them by reaching out to us. Never transfer money or share your bank account/credit card details with anyone unless you're absolutely sure it is safe to do so (in which case it is always at your own risk).
Job description
Our University offers  options and opportunity to do internship and to work with us in various departments, from lecturing , administration, marketing, assisting  lectures, language teaching and attending unique programs customable. This company, Indonesia is an Institution aiming to create a multicultural and International environment both so that is why we are offering many programs for non Indonesian citizens as well to always keep the interaction multicultural within our University.
Participants can choose one of the programs we offer below that is suitable for their background and , and for those who want to gain more experiences it is possible to combine activities in these programs.
Language Teacher: This program provides opportunities to language teacher and experts throughout the world who have the desire to teach languages/literature in collaboration with this company Language Center department with a duration of 3-12months, so the language teacher will teach our international and local students the language  of his/her expertise; the languages concern are: English, French, German, Spanish, Italian, Dutch, Russian, Chinese, Japanese, Korean, Swahili and Arabic.
Teaching Volunteer: This program provides opportunities for master and doctorate fresh graduates throughout the world who have the desire to gain 6-24months of university teaching experience in several scientific fields including: Civil Engineering, Electrical Engineering, Mechanical Engineering, Informatics Engineering, Information Systems, Visual Communication Design , Law, Accounting, Management and Elementary School Teacher Education. After the program is finished, participants have the opportunity to become prospective lecturers at the university.(free accommodation and stipend)
Internship assistant Lecturer: This program provides an opportunity for participants throughout the world to be able to join in becoming an assistant lecture with a duration of 3-12months. (free accommodation and stipend)
Social Activity Volunteer: Volunteering programs provide an opportunity for participants throughout the world to be able to join social activity within the University and rural communities with a duration of 1-6 months.
this company Faculties/Study Programs:
Faculty of Engineering, Computing and Design (FECD):
Mechanical Engineering
Electric engineering
Civil Engineering
Informatics Engineering
Information system
Visual communication design
Faculty of Business Sciences and Humanities (FBH): 
Management
Accounting 
Law 
Teacher training/Education
Activities
General Responsibility:
Marketing:
Everyone participating in program offered by  NPU(this company) have to participate to the marketing project supervised by the marketing staffs, the participants will have to help promote the university by doing diverse activities such as promoting in high schools(socializing and motivating High schools students to continue their study generally but also to choose NPU), going to some local radio stations, publishing articles about NPU in the the local medias, social working in remote area(helping people in the villages using their skills) and many others.
Specific Responsibility:
Language Teacher: as the tittle already mentioned will teach the language(s) of his/her expertise, the classes will be counted per session and the Teacher can use the Language curriculum/teaching content from the Language center department  of this company or submit a proposal for teaching content if the teacher prefer to use his/her own;
Teaching Volunteer: the participant in this case will be a lecturer so will have a specific contract with the details according to the  Faculty/study program that he/she will be teaching, 
Internship assistant Lecturer: The intern will be the assistant of one lecturer of NPU to get experience and exchange ideas, but also supervise the lecturer students and give and share advises them. The Lecturer as the supervisor as well will assign specific and detailed tasks to the intern to complete. 
Social Activity Volunteer: in this case the participants will have do follow the activities and tasks assigned and supervised by the International office and students social work community of this company.
Preferred profile
General qualifications:
the participants must speak fluent English
non Indonesian citizen
age minimum 18 years
Specific qualifications:
Language Teacher: 
Must have a diploma/certificate that prove the ability to teach in the language(s) of expertise
Must have been involve in a language learning organization/club
Teaching Volunteer:
Must have have master/PhD/doctorate degree
Must have published at least one research/ journal
Internship assistant Lecturer: The 
Must have at least finished high school
Must have experience or been  involve or work in the administration field
Social Activity Volunteer: 
Must have experience in Social work/activities
Must have been involve in helping community
What we offer
General Benefits:
Housing/Accommodation
Pick up form the airport Soekarno Hatta Jakarta to destination
Free transportation during specific activities out of the Campus 
Certificate of program accomplishment
Specific Benefit:
pocket money or allowance or salary / month according to the specific program the duration, this specific benefit will be discussed personally with the participant during the interview and before coming to Indonesia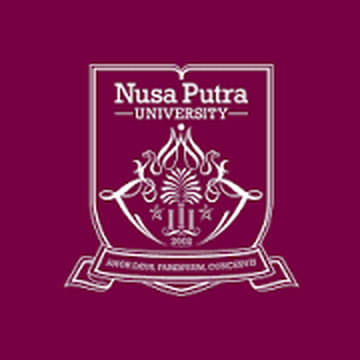 Nusa Putra University
Vision :
To reach the high standard among other national educational institutions till 2020 and obtain the world-class reputation till the year 2030 in the field of science and technology. Be a pioneer in the area which covers and generates intelligence, creativity, innovation and religion.
Mission :
Advance science and technology through educational, teaching and learning excellence and high quality.
Progress science and technology through study, research, publications and patenting the results of research.
The promotion of science and technology what can answer the problems along with the challenges of a community with its superior and high quality.
Develop a strong and innovative organization by utilizing the resources optimally, thus to contribute on the intellectual national life.
Master the growth in the science and technology industry in Indonesia which contributes to the creation of national independence.
This vacancy is valid through 12/31/2023